The expertise we bring to every project reflects your personal style
Since 1978, Terry and Lisa Adams have successfully built their family-owned and operated company by ensuring meticulous craftsmanship and hands-on attention into every project. Let their experience, creativity and commitment to customer service go to work exceeding your expectations and earning your rave review.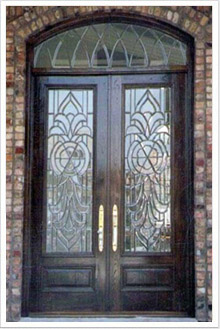 Design and Installation
Adding stained glass to your new custom front door creates a sparkling effect to the entryway of your home or business. We stand by ready to meet with you and welcome your input on motif, color, texture, shape, dimension, and design details. Taking your taste and your home's architecture into consideration, we'll make recommendations for your wood door and show how stained glass can give it an impressive amount of artistic impact.
Would you like a new look for your front door but do not want to replace the entire door unit–we can replace the leaded/stained glass  with  a design that will transform it!  Our stained glass designs can also be constructed for windows, transoms, sidelights and cabinet glass to transform a typical space into a treasured part of your home. And because every stained glass creation we produce is specifically designed and handcrafted for your home, you'll see a full-size pattern before construction begins so you're assured the final result you want is exactly what you'll get.
Leaded and Stained Glass Repair and Restoration
When it is time to repair a treasured leaded or stained glass panel in your home call on the experts with over 40 years experience.
In many instances, we can determine what work is needed by email or phone.
For the quickest response for repair request please text your name, phone, city and photos to Terry Adams 817-975-7584 or email us your photos and a brief summary of the damage for the most accurate estimate.